I know I know, I promised the bump attack post for today...
But it makes it hard for me to post pictures of the belly when the husband takes my camera to work.
Sigh. So? I will be linking up with two beautiful ladies today to show you my
1. Friday favorites
and
2. Friday Letters
So. For my Friday Favorites?
I'm going to show you my favorite pics from 4th of July.
I didn't take too many as I wanted to enjoy the day...
but I took just enough to be pleased Minus the fact the husband is in zero of them.
And the rest of the family is missing also.
Okay, so maybe I did fail.
But. I do have some fave pictures of the princess.
Like this one...
Because a behind shot of a baby booty is just the cutest
And this one...
Because her cheesin right at the camera is the best
And these two....
Because how cute is she trying to hide? I mean... really... I seeee you.
And this one...
Because playing peek-a-boo with grandma is so much fun.
So are the grandma kisses...
Better yet.....
Mama kisses.
And this one....
Because... well... need I explain. She melts my heart and my eyes.
And for the Friday Letters....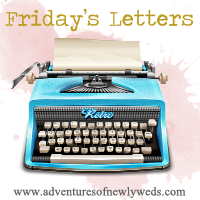 Dear Blogger Self
.... you are
really
slacking in this
bump attack
department, you
better
get it together.
Dear Husband
... not taking the bags out of the car which resulted in you forgetting my camera made me one unhappy camper. You owe me
x
amount of shopping days. I choose... 5. But in the meantime? You look
so hott
every morning in your work clothes. I xoxoxo you.
Dear Elliana
.... you ought to be "mama mama mama'd" out by now. Really.
Serious
.
Dear Reeses Puffs
.... you taste just as good as yesterday. And tomorrow. And probably for the next 6 months. I triple heart you.
Dear Ted...
I want to see you. Can we make this happen? I'd like to have my large popcorn and large diet coke join me as well. Mkay?
Thanks
.
Dear Elliana again
.... eating two bananas in one morning is not acceptable. So please stop insisting... I am certain you will turn into one one of these days.
Dear A/C
... why do you work
so well
downstairs but are absolutely
lousy
upstairs? I'm sweatin' up here.
Dear Caillou
.... my daughter is
obsessed
with you. Can you please make a guest appearance to our little casa on November 8th,
please?
Thank you in advance.
Dear Jef
... you have
completely
won me over. That letter you wrote to Emily?
Oh I wanted to just jump through the computer and marry you two right there and then
. How absolutely different yet perfect are you two for one another.
I melt.
Dear Hair
... you are on the verge of
Pocahontus status
. And? Not trying to reach that status,
thank-you-very-much
. Chop it off
... maybe color too?
Dear little teddy graham belly
.... I am 99.5 percent sure you are a boy. And if you aren't? I will delete this sentence and say girl. But yes... you are a boy. Why? Because me not being able to even
want
to eat sweets yet tolerate them is absolutely ridiculous and unheard of. And? We are in our second trimester. What is happening.....lets discuss this
mister.
Maybe this means I won't gain 40-45 pounds like last time?
Maybe? Please?
That is all.
Bump attack will happen tomorrow. PROMISE!